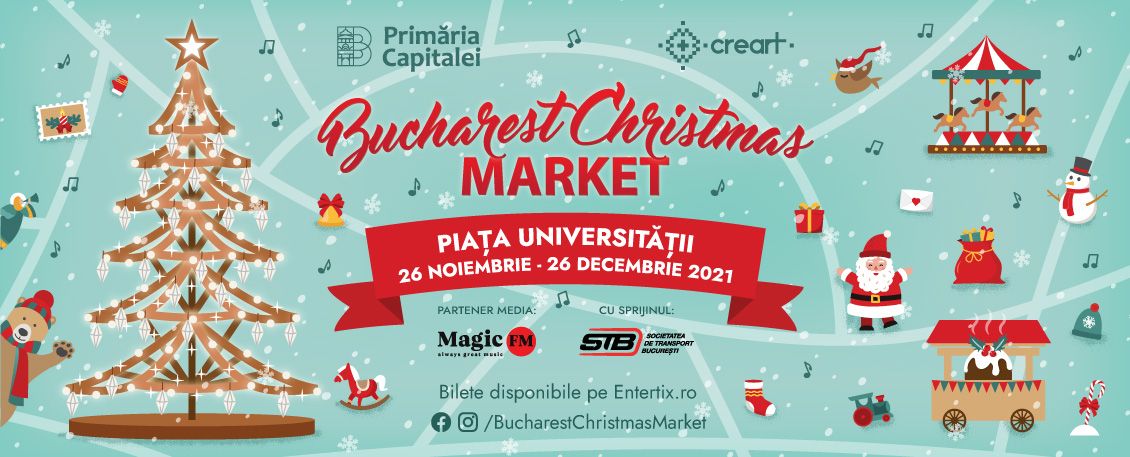 Târgul de Crăciun București se deschide pe 26 noiembrie, în Piața Universității!
În perioada 26 noiembrie – 26 decembrie 2021, pe esplanada cu statui din Piața Universității, Primăria Municipiului București, prin CREART – Centrul de Creație, Artă și Tradiție, va deschide târgul simbol al Capitalei – Bucharest Christmas Market, eveniment care își propune să readucă spiritul sărbătorilor de iarnă în inima orașului.
Crăciunul aduce în fiecare an bucurie creștinilor de pretutindeni, simbolizând lumină, speranță și iubire. Păstrăm tradițiile, valorile și magia, având grijă unii de alții – acesta este adevăratul spirit al sărbătorilor și mesajul acestei ediții.
De pe 26 noiembrie, la târgul de Crăciun, vizitatorii vor găsi zilnic inspirație pentru cumpărături de sezon și cadouri: produse artizanale, globuri pictate manual, clopoței, coronițe, decorațiuni și ornamente. Nu vor lipsi nici aromele specifice sezonului: cozonacii, prăjiturile, plăcintele, acadelele, turta dulce, ciocolata de casă, băuturile sau gustările calde.
La cea de-a XIV-a ediție a Bucharest Christmas Market, momentele speciale vor fi petrecute alături de cei dragi în aer liber, într-un decor de poveste. Bradul care va fi amplasat în Piața Universității are o înălțime de 15 metri, este reutilizabil, durabil și ecologic, creat din lemn și împodobit cu ornamente sculptate. Programul va fi completat de muzică ambientală și momente speciale dedicate sărbătorii Crăciunului.
Evenimentul îi va purta pe cei mici printr-un tărâm de poveste, unde vor putea face plimbări în carusel și se vor întâlni cu Moș Crăciun și elfii săi, care vor sosi negreșit în târg, pe 17 decembrie, să le asculte dorințele.
Anul acesta, evenimentul se va desfășura în condiții speciale, adaptate contextului epidemiologic actual, iar siguranța vizitatorilor, a expozanților și a personalului rămâne primordială.
Astfel, pentru o gestionare adecvată a numărului de vizitatori, esențială din motive de sănătate și siguranță accesul în târg se va face pe bază de bilet, care va acoperi, de asemenea, o parte din costurile organizării evenimentului.
Prețul biletului care asigură o intrare/zi la târg este de 5 lei la achiziționarea online, respectiv de 7 lei, la casa de bilete din locație. Copiii cu vârsta până în 12 ani beneficiază de acces gratuit. Biletele online sunt disponibile începând cu 12 noiembrie, iar casa de bilete, funcționează pe toată durata de desfășurare a evenimentului Bucharest Christmas Market.
Informații de acces:
Conform legislației în vigoare, accesul participanților se realizează în limita a 30% din capacitatea spațiului de desfășurare a evenimentului și este permis doar persoanelor vaccinate împotriva virusului SARS-CoV-2 pentru care au trecut 10 zile de la finalizarea schemei complete de vaccinare, respectiv persoanelor care se află în perioada cuprinsă între a 15-a zi și a 180-a zi ulterioară confirmării infectării cu virusul SARS-CoV-2, în baza prezentării Certificatului Digital European COVID-19. Sunt exceptați de la prezentarea acestor documente copiii cu vârsta mai mică sau egală cu 12 ani, însoțiți de o persoană majoră care se află în una dintre situațiile prevăzute mai sus.
Pentru persoanele care provin din state membre UE este obligatorie prezentarea Certificatului Digital European COVID-19 (în format electronic sau tipărit), iar persoanele provenite din state ale căror autorități nu emit certificate digitale COVID-19 ale UE sau documente compatibile cu aceste certificate, fac dovada vaccinării sau vindecării prin intermediul unui document (în format electronic sau tipărit) emis de respectivul stat.
Organizatorii au obligația de a scana codul QR fără a reține niciun fel de date sau informații din certificatul verificat. Purtarea măștii de protecție este obligatorie (excepție: copiii cu vârsta mai mică de 5 ani). La intrare, toți participanții vor trece printr-un triaj observațional/termoscanare.
PROGRAM/SCHEDULE
---
Bucharest Christmas Market
Ediția a XIV-a/14th edition
PIAȚA UNIVERSITĂȚII/University Square
26.11 – 26.12.2021
---
Lu-Vi (Mon-Fri) 12:00-21:00
Sâ-Du (Sat-Sun) 10:00-21:00
29, 30 noiembrie & 1 decembrie 2021
10:00-21:00
—
Consultați REGULAMENTUL complet: https://www.bucharestchristmasmarket.ro/regulament/ 
Bilete disponibile pe Entertix.ro
Facebook event: https://fb.me/e/2PFizpenq
Organizatori: Primăria Capitalei, CREART
Partener Media: MAGIC FM
Cu sprijinul: Societatea de Transport Bucuresti STB SA, Apa Nova București
---
Bucharest Christmas Market opens on November 26th in University Square/Piata Universitatii!
Between November 26th and December 26th, in Piata Universitatii/University Square, Bucharest City Hall, through CREART – Centre for Creation, Art and Tradition of Bucharest Municipality, opens the symbol fair of the capital – Bucharest Christmas Market, an event which aims to bring back the winter holiday spirit in the heart of the city.
Every year, Christmas brings joy to Christians everywhere, symbolizing light, hope and love. We maintain traditions, values, and magic, by caring for each other – this is the true spirit of holidays and the message of this edition.
Starting with November 26th, at Bucharest Christmas Market, visitors will find daily inspiration for seasonal shopping and gifts: handcrafted objects, hand-painted Christmas decorations, bells, wreaths, decorations, and ornaments. One will also find specific flavours of the season: sweet bread, cakes, cookies, pies, lollipops, gingerbread, home-made chocolate, hot drinks and snacks.
During the 14th edition of Bucharest Christmas Market, you will spend special moments outdoor together with your loved ones, in a story-like setting. The Christmas tree which will be placed in Piata Universitatii is 15-meter tall, reusable, sustainable, and eco-friendly, made of wood and decorated with carved ornaments. The program will be completed by ambiental music and special moments dedicated to Christmas.
The event will take children to a fairyland, where they will be able to ride the carousel and meet Santa Claus and his elves, who will be present at the market starting with December 17th to listen to their wishes.
This year, the event will take place under special conditions, adapted to the current epidemiologic context and the safety of the visitors, exhibitors and personnel comes first.
Thus, in order to adequately manage the number of visitors, which is essential due to health and safety reasons, the access to the Bucharest Christmas Market is based on a ticket which will also cover part of the costs of organizing the event.
The ticket price which ensures one entrance/day to the market is of 5 lei when purchased online, and 7 lei respectively, at the location ticket office. Children under 12 years old benefit from free access. Online tickets are available starting with November 12th, and the ticket office is working throughout the entire Bucharest Christmas Market (November 26th – December 26th, 2021).
Access information:
As per the legislation in force, access of participants is granted within  30% of the capacity of the space and only to persons vaccinated against the SARS-CoV-2 virus for whom 10 days have elapsed since the completion of the complete vaccination schedule, respectively to persons who are in the period between the 15th day and the 180th day after confirmation of SARS-CoV-2 virus infection, based on showing the COVID-19 European Digital Certificate. Children aged 12 & under, accompanied by an adult who fits in one of the aforementioned categories, are not required to show these documents.
In case of people who come from EU members states it is mandatory to present the COVID-19 European Digital Certificate (in electronic or printed format) and in case of the people who come from states whose authorities do not issue  COVID-19 EU certificates or compatible documents, they can prove vaccination or being healed by means of a document (in electronic or printed format) issued by that state.
The organizers have the obligation to scan the QR code, without retaining any data or information from the verified certificate. Wearing a protective face mask is mandatory (exception: children under the age of 5). At the entrance, all participants will go through an observational/temperature scanning triage.
—
Consult the full Participation and acces regulations: https://www.bucharestchristmasmarket.ro/regulament/ 
Tickets available on Entertix.ro
Facebook event: https://fb.me/e/2PFizpenq
Organizers: Bucharest City Hall, CREART
Media partner: MAGIC FM
With the support of: Societatea de Transport Bucuresti STB SA, Apa Nova București